Ana Leovy's empowering approach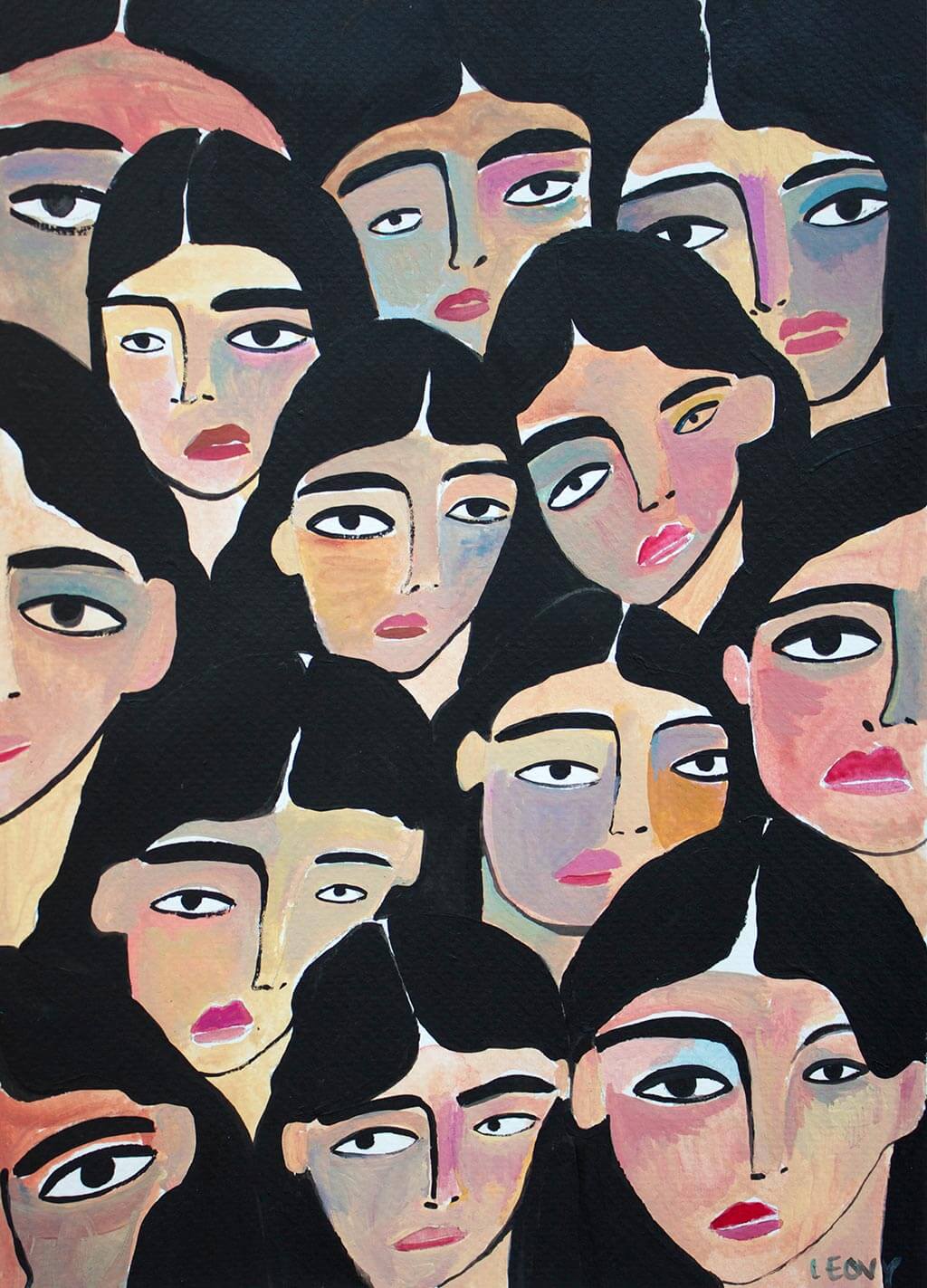 Mexican artist Ana Leovy celebrates women and diversity through her work. Inspired by fashion, culture and everyday life, she opts for strikingly vibrant and confident depictions.
You were a graphic designer before becoming a full time artist. Why do you feel being an artist is more creatively fulfilling?
Although I love graphic design, being an artist gives me so much more creative freedom. People come to me now because they like my style and they trust what I will create for them, whereas from my experience working with design clients, they were a bit harder to please (laughs) – and I was stressed all the time. Art doesn't feel like a job at all, it brings me lots of joy and peace, especially when seeing the reaction of people who have bought my work, it's the best feeling ever!
Art doesn't feel like a job at all, it brings me lots of joy and peace… it's the best feeling ever!
How have you developed your unique style?

I try exploring and practising as much as I can. It's so exciting for me, seeing how it evolves over time. Looking back on the work I was doing a few years ago, it seems so different, but it's all part of the process and it's only natural to continue changing the more I paint and learn.
Why is it important for you to portray women's bodies out of proportion?
We all come in different shapes and colours, I think that is so interesting and awesome. We should learn to embrace our uniqueness. I like playing with distorted bodies in order to avoid falling into any specific beauty category. I think it's important to encourage diversity; my work isn't about creating beautiful people, but trying to send a message of self-love and empowerment.
My work isn't about creating beautiful people, but trying to send a message of self-love and empowerment.
Which element do you feel is more crucial in conveying the intent of your work? The depiction of the clothing the women wear, their posture/stance or the objects surrounding them?
I would say their posture, but with every work there's a different story. When creating a commission I think it is more about the object – every element has a purpose of being there.
What's the significance of your choice of colour palette?
Choosing the colour palette is my favourite part, I love letting myself flow and see what comes out. I think the colours I choose are sort of a personal journal of my mood swings (laughs).
What drives you to create?
I honestly enjoy every single bit of the process and I get attached to every work I make, they are like my babies. But most of all, being able to connect with people all over the world through my work is absolutely priceless. I've gotten so much love from people I don't even know and it's incredible what art can do and how it can say so many different things to everyone.
Your work focuses on empowering women, so how do you feel about women bringing other women down?

"When we tear a woman down, we tear all woman down". I think it's a matter of confidence, or the lack of it. When we feel insecure, we tend to see ourselves as competitors, but we all have a choice and should learn to empower and applaud one another. Standing up for each other makes us stronger. It's important to understand we all have different styles and opinions and there is no right or wrong, so respect is key.
What do you make of Frida Kahlo's (cult feminist icon) fame surpassing that of her husband's, Diego Rivera (Mexican muralist)?

Frida's work is so personal and intimate; you can almost feel her pain. She was fearless and didn't allow being a woman to diminish her value, so I think her career is a turning point for all women, she opened doors and broke down stereotypes in both professional and personal levels.
If you could collaborate with any artist, in any medium, past or present, who would it be and what would you ideally create?
Tough one! I would have loved to collaborate with Matisse, Basquiat and of course with Frida Kahlo. As to what we would create, with Matisse maybe a cool textile print for clothes, with Basquiat a huge mural and an illustrated book about women with Frida.