'A new generation of Caribbean music': Buscabulla detail unique sound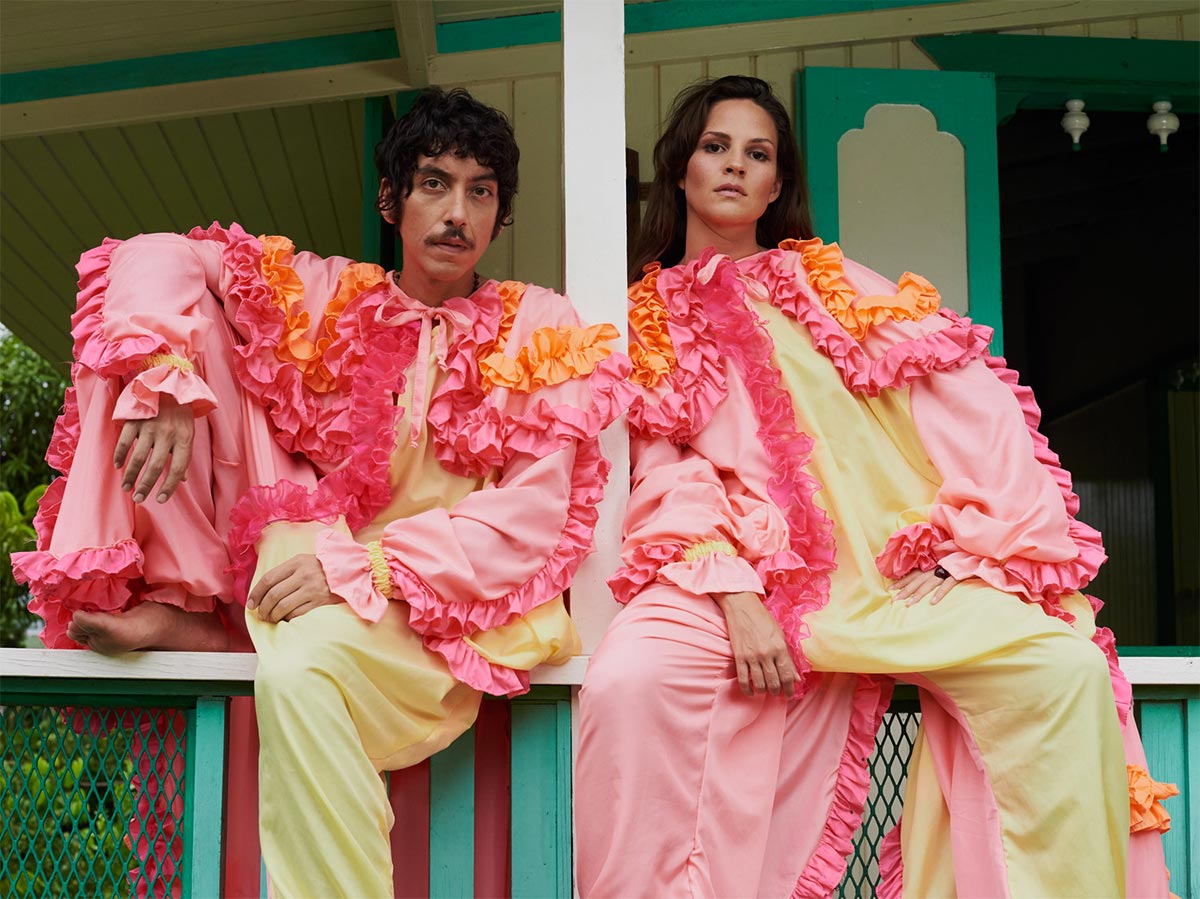 Photo: Mara Corsino
Raquel Berrios and Luis Alfredo Del Valle comprise Buscabulla, the Puerto Rican outfit with a wholly unique sound. The couple left Puerto Rico separately, in search of greater artistic opportunities in the mainland United States, and met each other in New York City, forming the band soon after.
Success followed: after winning a Guitar Center Contest in 2013, their first releases – EP and EP II – garnered international attention and led to appearances at Coachella. By 2018, though, they were back in Puerto Rico; New York's vibrancy unable to compensate for the familial call of home (the island had just been devastated by Hurricane Maria). This is why their debut album is entitled Regresa – translated as "Return" – as it was written and recorded during this transitional period of their lives. It's little wonder a sense of displacement and ennui colours the record: it's bittersweet and introspective, accordingly, yet the instrumentation remains upbeat and buoyant, a call to dance and remain hopeful through even the toughest of moments. Their sound is enthralling and exotic, forged by their Puerto Rican identity and appreciation for all styles of music. Regresa manages to evoke the timeliness of salsa and Latin music while indulging in psych rock and experimental pop. We spoke to Berrios to discuss Puerto Rico, Regresa and their journey towards it.
What first prompted the return to Puerto Rico?
We've been here for two years now and I think I realised that I had been carrying a strange feeling living in New York. Something didn't feel right. And Puerto Rico is home and there's just something that always calls you back. I don't feel uncomfortable anymore. Puerto Rico is paradise, but it's a hard paradise to live.
Tell us about your nonprofit Puerto Rican Independent Musician and Artists (PRIMA).
We started a nonprofit to send grants to lots of musicians. They were emergency grants and by the time the whole COVID thing happened we were left without any resources. We're now just waiting for this peak to hopefully pass, we really don't know what's coming in the future. And with musicians like us, we had plans to tour this album and that's not going to happen.
We record everything at home now… I feel that sometimes more interesting things come out when you're on your own.
You now live in the small town of Aguadilla. How has it changed your approach to making music?
We record everything at home now. I think that you get more comfortable making music in your own space. I feel that sometimes more interesting things come out when you're on your own. I also get very self-conscious around other people when recording in a studio. I also like to take my time!
How would you describe the style of your music?
I like to call it a new generation of Caribbean music, music that comes from there that is also at the same time worldly. There's psych, there's soul, dashes of electro. We do samples and stuff so it's kind of a hybrid. It's so hard to categorise it.
Do you still think there's the sad idea that outsiders expect you to make more traditional music like reggaeton when they hear that you're Puerto Rican?
So many people ask us about being Puerto Rican and not playing it (reggaeton). It always feels like we get put into a category of indie music because we choose not to make the mainstream kind of music that is everywhere in Latin America. We're definitely inspired by these things, like salsa and reggaeton, but we make alternative music that sounds different and separates us.
How do you go about writing your songs?
I think our songs are spiritual in a way… they're more songs about the self and where I come from. I think it's kind of an exploration of that.
Tell us about the Guitar Center Contest that you won in 2013.
So Converse and Guitar Center teamed up and did this contest and I didn't actually want to participate in it. I was thinking about our own music, that "it's in Spanish, it's kind of experimental" but Luis said "just see what happens". And then Dev (Hynes, AKA Blood Orange) loved it and appreciated what we were trying to do.
When we started with [Blood Orange], I remember we were super influenced by him. It was an exciting time with the DIY scene in Brooklyn and we were enamoured by it, we wanted to be involved in the vibe.
What was it like working with Dev Hynes?
When we started with Dev, I remember we were super influenced by him. It was an exciting time with the DIY scene in Brooklyn and we were enamoured by it, we wanted to be involved in the vibe. It was very collaborative though and he knows his stuff, he knows his songwriting. Just a really talented and cool guy.
Where did the name Buscabulla come from?
So Buscabulla is a slang word back home in Puerto Rico. It can have a bad tone to it but when it's broken apart it changes – busca means 'to look for' and bulla means 'cheer'!
How important is it to sing in Spanish rather than English?
I always think that if I sing in English, I'm not really contributing to the music landscape. This is what I know (Spanish), it's my first language. There's plenty of great artists that make beautiful music and still sing in their native language.
If you could collaborate with any artist in any medium, who would it be and what would you create?
That's a good question. I think our music feels very natural at times, so it would be cool to collaborate with an earth artist. Someone from a different artistic medium who would understand what we were trying to say.