Celeste Byers' natural talent
Celeste Byers is a Californian illustrator, muralist and installation artist. Her work explores themes such as nature, beauty and the subconscious mind.
In these dark times of social disunity, your artwork seems to pop with colour and positivity. How do you stay centred and optimistic?
I try not to give too much attention or energy towards bad news or negative things in general. I think it's important to focus on the positive because there is so much beauty in our world. Of course we all feel negative emotions and there are bad things happening but it's part of life and there's no reason to dwell in suffering when we don't have to. I stay optimistic by focusing my energy on what I love and care about rather than what is wrong with the world.
I stay optimistic by focusing my energy on what I love and care about rather than what is wrong with the world.
There's a lot going on in your murals and illustrations, but you manage to balance the imagery just perfectly. How do you decide on the compositional layout?
Thanks! I usually make a rough sketch on a piece of paper beforehand to figure out my compositions. They usually come pretty naturally and I tend to use a lot of asymmetry that's close to symmetry. For me, designing compositions is not really something I think about but is more about creating a feeling of balance.
I understand you grew up close to the ocean, but what else drives your obsession of nature and creatures?
I grew up in a family of nature lovers. My dad used to be an ornithologist and my parents' first date was bird watching. I grew up going camping, hiking, and spending time in nature. I didn't grow up religiously but my parents instilled in me the idea that nature is God. The natural world is just endlessly fascinating and our interconnectedness with it is literally why we can exist on this planet. All lifeforms are so incredible and work in such unimaginable ways, it is endlessly inspiring.
The natural world is just endlessly fascinating and our interconnectedness with it is literally why we can exist on this planet.
How did you come to work with PangeaSeed (an international organisation concerned with sea conservation)?
I met Aaron Glasson, PangeaSeed's creative director, in Colombo, Sri Lanka five years ago. We collaborated on the first SeaWalls: Murals for Oceans mural there and then continued working together over the next few years on many other projects including PangeaSeed projects such as World Oceans Day Hawaii and painting other SeaWalls murals in the United States, Mexico, Vietnam, and New Zealand.
You are listed as an ARTivist (art activist) on the PangeaSeed website. Do you believe painting a mural is enough to promote social and cultural change in relation to sea life conservation?
I think that murals are powerful vehicles for sending messages because they're huge and you can't ignore them. They can basically be hand painted billboards for promoting ocean conservation (or any social or environmental issue for that matter). No, I do not think that they alone are enough to change the world but I do think they can be effective in providing inspiration for change, capturing people's attention, and spreading messages.
I've read that you described the mural you painted on the Mexico side of the U.S. Mexico border wall as being an intense experience. Can you describe the scene and the feelings there?
Aaron and I painted the border wall for our Las Dimensiones project which is about a group of inter-dimensional travellers who come to Earth to share their knowledge. We wanted to paint the border wall because it is literally an inter-dimensional place. On the either side of the few centimetres of border wall exists entirely different countries with different languages, cultures, and realities. There were bullet holes in the Mexican side of the wall we painted and while we were painting we saw two men jump over the border wall from Mexico into the United States. Sirens went off on the US side, one man hopped back into Mexico, and the Mexican border patrol sped after him down the dirt alleyway.
There were bullet holes in the Mexican side of the wall we painted and while we were painting we saw two men jump over the border wall…
We also brought our inter-dimensional teleporter installation to the gallery next to the border wall and there, it took on a whole new meaning. We'd started the project with a kind of mystical inter-dimensionality in mind and then it suddenly became political and very real. To bring a teleporter next to a dimension people are literally trying to cross was really heavy. I remember learning that minimum wage in Tijuana was around 100 pesos a day ($5 USD) compared to San Diego's $11 USD per hour ($88 USD a day) and realising that was one reason people try to cross and that was why everything costs so much less in Mexico. Most people there have to live on very little (compared to Americans) and I realised I am very privileged.
Given your murals are very community based, do you get to know locals well? Are there any local stories that have stayed with you along your journey?
One of my favourite things about painting murals is that I get to learn and know different communities. Since murals generally take a couple weeks to paint, I always leave with new friends and am sad to say goodbye. One story that stuck with me recently was from a woman I met in Savannah, Georgia. She is black and told me about how her uncle had been shot and killed in the 1960s by a white man because her uncle was dating the man's daughter. I had never heard a story from someone I directly knew of a person being killed just because of the colour of their skin and it made me so sad. That trip was my first time in the American South I had never directly faced my country's history of slavery and its aftermath of racism. Savannah is where the biggest slave sales in America were held and today it is still very racially segregated.
You have become well known because of your murals, but you also make some incredible structures. Your structures often blend into the environment you place them in. Is this intentional? What is the planning process behind them?
In the past I didn't intentionally make the structures blend into their environments but I've tended to put them in nature which makes most things look nice and integrated. My most recent structure, the Bowerbabe Temple, was totally made from natural materials (bamboo, hemp, plants and flowers I collected) so when I put it in nature, it integrated really well. Aaron and I made a giant head at Holistika in Tulum last year and we designed it so plants could eventually grow over it so it would become more integrated into the environment. Two of our other structures, the Pyramadora and Mơ Thuyền, were designed with plant materials from the environments where we created them.
The planning usually involves making a few sketches to design the structure, then searching for materials, whether at a thrift store, hardware store, or in nature, then going ahead and building it. Other times I've been lucky enough to design a structure, draw out plans, and have professional builders (cement workers and welders) make the structures for me.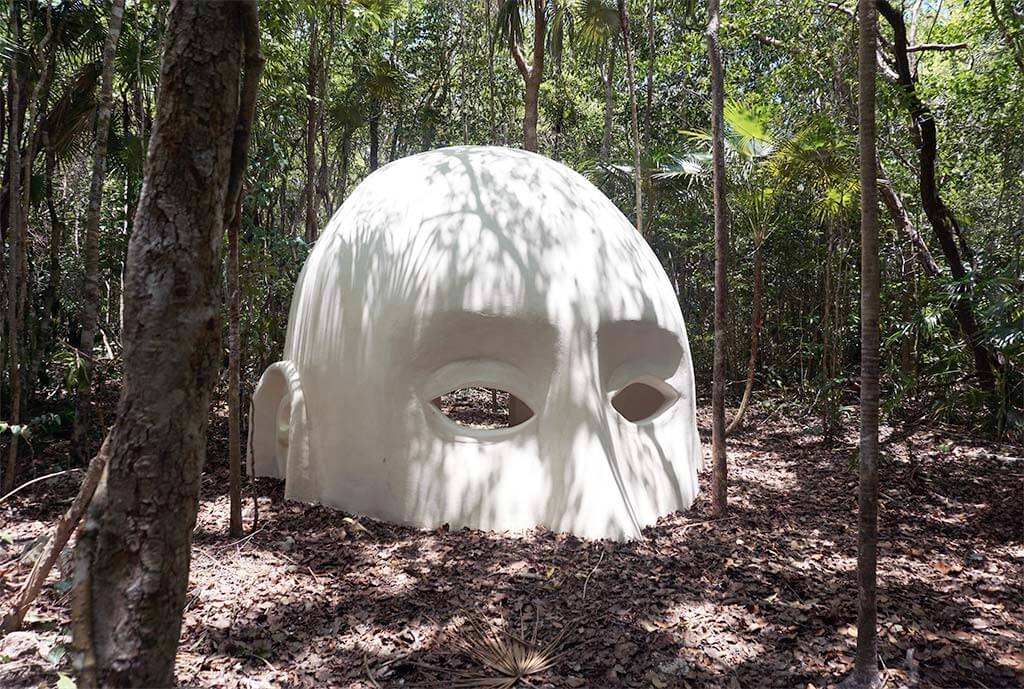 If you could collaborate with any artist, in any medium, past or present, who would it be and what would you ideally create?
I feel like it would be amazing to collaborate with so many types of people for a massive project! First, an architect specialising in sustainability to create an entire environment and immersive artistic relaxing experience. Maybe it would be a boutique hotel or nice getaway, a permanent space where people could gather and have a beautiful time. Maybe it could even be renovating an existing building to be something new. I'd want to design or find other artists to design the carpets, wallpapers, bathtubs, bedrooms, to decorate and fill the space with plants and beautiful paintings and pieces of art. I'd want to make all the things from natural materials and in a sustainable manner. I'd like there to be a pool and the location would have a wonderful view near a body of water. I'd collaborate with landscape designers to make the outside beautiful, collaborate with chefs to curate the food, and invite musicians and artists to make music and artwork for the space.