Chris Fox's inspired installation in a Sydney train station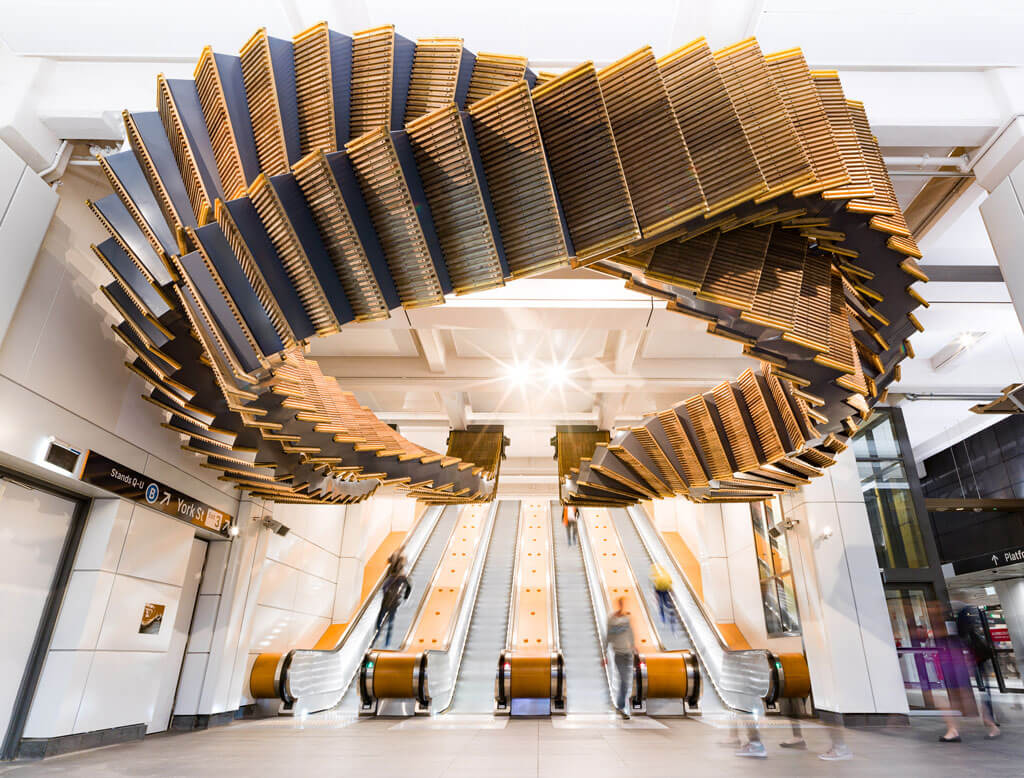 Chris Fox is a Sydney based artist exploring the boundaries between art and architecture. Transport for NSW recently commissioned one of his most impressive feats: Interloop, a five tonne, fifty meter long repurposing of an 86 year-old wooden escalator in Wynyard Station, Sydney.
Your work appears to be site-specific. What do you look for when assessing the space?
All my installation work is site specific and intersects the location spatially and conceptually. The space for each work varies so dramatically that each project has a particular scale, material, light quality, movement etc. When I am assessing a space, I am thinking about scale and movement and where in which I can manipulate the space in a dynamic sculptural way.
A great deal of your work uses large industrial materials. How do they come into your possession?
The material for each project is usually determined by the location or site. My practice often utilises the existing or previous used material of the location. In the large commissioned projects, material is chosen for its structural performance. I work with my team of specialists, engineers, fabricators and installers to source the best material for the project, maintaining my artistic intent for the project. In the case of the Wynyard project, the heritage timber treads were made available by Transport for NSW and formed the basis for the project.
Do you have any overarching themes or philosophies throughout your collective work, or is each piece intended to stand on its own?
I've always been interested in scale and site. Namely, in manipulating sites with large-scale interventions, using ordinary materials (like cars and cables) in a way that creates an uncanny understanding of place. Each project has its own conceptual and material exploration, yet there is always a consistent visual language and approach to material and architecture.
We had to go back to the drawing board and rethink completely how we were doing this project…
What were some of the biggest challenges you faced in the creation and installation of Interloop?
At the point when we were just about to start fabrication in August, a strict timeframe for installation was decided with a 48-hour installation over one weekend, rather than over a couple of weeks, as we initially thought. We had to go back to the drawing board and rethink completely how we were doing this project: (the) key was having pre-assembled parts that would bolt together efficiently on site.
Would you personally consider your large constructed pieces art or architecture?
I would consider my large sculptures as art. In my creative process I use a combination of both art and architecture. The visual arts process of exploratory conceptual thinking is at the forefront of my practice. The architectural skill set I have is used to then facilitate that process: to make the sculptures ready for fabrication, to negotiate with stakeholders and institutions. My training as an architect has given me an understanding of structural engineering, visualisation and analytical design process. With large scale public sculpture there's a lot at stake. 'Interloop', in particular, has a really nice marriage of the two skills: the stairs have a very architectural component, but the way I have manipulated the form and the steps is sculptural and artistic.
A common criticism of artists such as Damien Hirst is that they take credit despite a hands-off approach to production. Given you often work with contractors, do you feel you are welcoming similar criticism?
For over twenty years most of my projects I built and installed myself. With the large scale commission work, it is required that I work with larger teams of people. I design, manage, coordinate, budget and deliver the whole project. Contemporary artists work across many different fields and have many people involved in their process. This is a more fluid way of working and it allows for greater experimentation and more dynamic outcomes. Visual Arts is always navigating criticism in regard to the authorship, as it has since the origins of conceptual art in the early 1900's.
Visual Arts is always navigating criticism in regard to the authorship
If you could collaborate with any artist, in any medium, past or present, who would it be and what would you ideally create?
It would be amazing to collaborate with Richard Serra, but instead of working with his material of choice – corten steel, the work would be made of Jello!