A Hypnotic conversation about books, meditation & gun control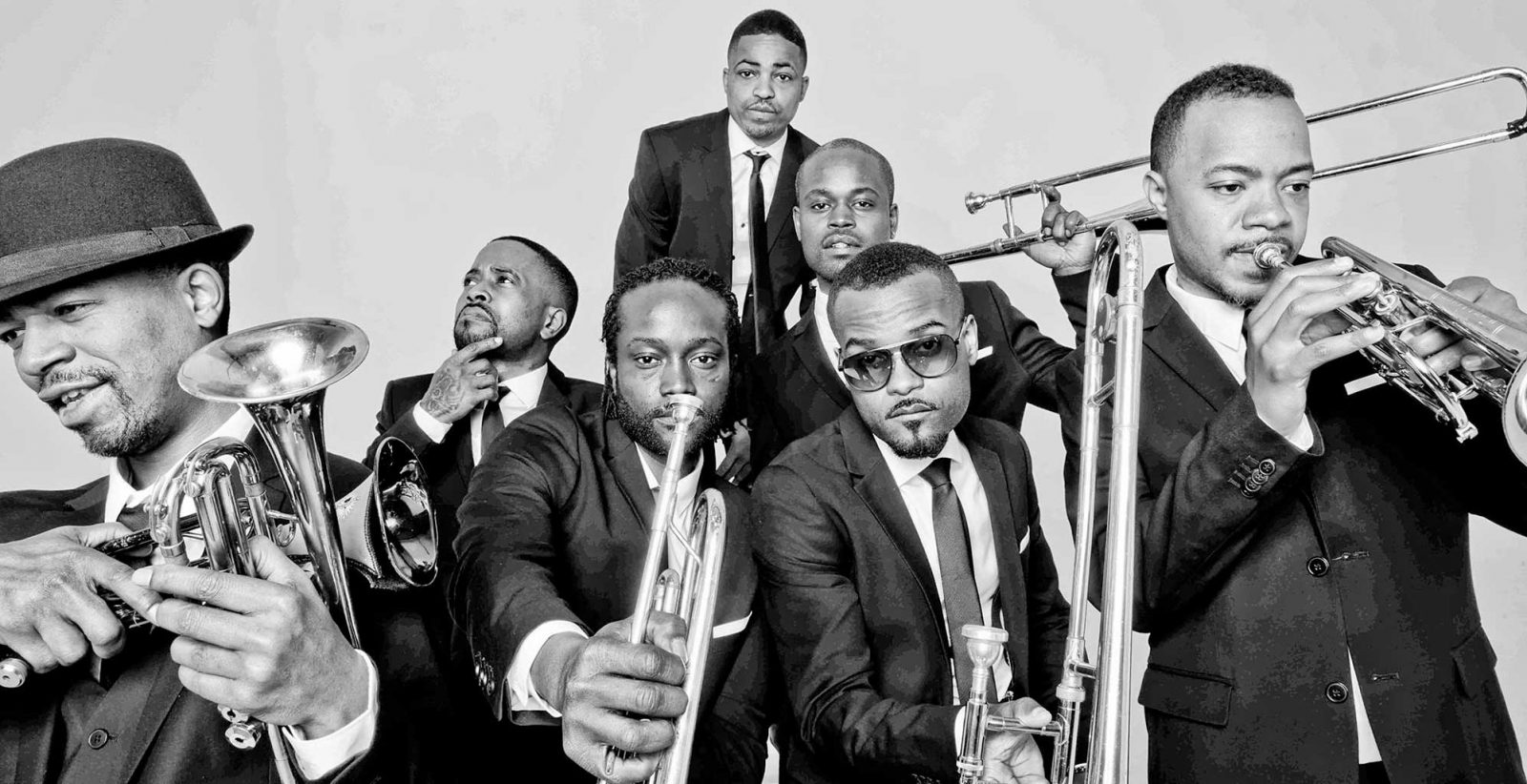 Hypnotic Brass Ensemble are a Chicago-based band consisting of seven sons of influential jazz trumpeter Phil Cohran (Sun Ra Arkestra, Earth, Wind & Fire). Their unique blend of hip hop, jazz, funk and rock has been witnessed by the likes of Nelson Mandela and countless audiences worldwide – while making a name for themselves performing and recording with luminaries such as Prince, Gorillaz, Wu Tang Clan, Erykah Badu, Femi Kuti, Mos Def and De La Soul. We caught up with trombone player Cid at the start of their current Australian tour.
You're going to be playing shows in Melbourne, Sydney and Adelaide – including three sets at WOMADelaide. What can audiences expect this time around?
Well we haven't played Australia in about three, four years. So that's gonna produce two things… The first thing is that they get to see the last four years of new material that we've written and how we've morphed as a band. Like our last tours we had a tuba, now we have a bass player and a hell of a bass – funky bass player. We have our guitar player, it's his first time here with us. Even our drummer who we have is a new drummer. Our material is newer. And the second thing that it gives us is the opportunity to play those classics that we didn't hear a lot last time we were here, but under our new format and um, just kinda like a new way we do the classics. So they're gonna see a double great performance from Hypnotic.
What do you like to do during down time while on tour?
Well all of us have our specific you know, thing. Me personally – and another one of the guys in the group shares this, is like uh, reading. Like, the best thing you can have in between shows and all the running is just trying to sit still. And while you're sitting still, a good book is a nice companion. And actually with all our travels, that's one of the things we get to do is check out, you know, the book stores, whether that's locally the best one or the airport – have a nice little collection from travelling around everywhere. That's one of the pastimes is reading. Another pastime that really, one that everybody gets in on, that's probably just in the hotel lobby on the front, we just we chillin'. Sit, talk, crack some jokes. 'Deflate' as they call it.
Awesome. So what are you reading at the moment?
I read a lot of historical novels. One of them, Bernard Cornwell's story. They actually just turned it into a series, The Last Kingdom. I've been reading those for like, the last three years. I read the Genghis Khan story. That was real dope. Yeah, that's pretty much it… My brother's reading… as well. The Book of Coming Forth by Day of uh, I think it's Dr. Maulana Karenga. Uh, nah Dr. Jacob Carruthers, that's who it is.
You've recorded and performed with a number of truly incredible artists. Is there a particular highlight that leaps to mind?
Well of course, performance wise – see, we've collaborated with a lot of artists on the stage and we've collaborated with just as many in the studio. And I think as far as the stage collaborations, of course, I've asked them and most favourite and enticing one was us and Prince… That was one of the most meaningful collaborations, and he requested us. And we were just like, he was like an icon in the business, musically and a lot of what we stand for being independent artists, running your art and being administrative in control of your competence, he does on the biggest level. So it was another reason why he chose our band at that specific performance and point and while we were just a good fit with him. So Prince was the one, probably the biggest one. Like we were just like his groupies, the fans or something, you know, just playing with him, being in his band. And we were just meant to open up for him and ended up playing with him. Just sound check, he changed direction on everything. So that was dope. And then um, another one was Wu Tang. We were like big fans of them, they had a lot to do with Hypnotic finally just getting real serious about putting our band forward. When we first was raised playing on the streets like uh, Wu Tang was one of our inspirations. So playing with them was monumental. We played with them in Brixton Academy in London. And it ended up being a crazy good night, so. And then recording wise, it was Snoop Dogg. Like we just locked that one in a couple of weeks ago.
Oh, so it was quite recent with Snoop Dogg then?
Yeah, yeah, that's out now, his newest record, Motivation. And that's real good because it's been getting a lot of traction and a lot of publicity. ESPN picked it up, the NBA All-Star Weekend picked up the song so it's been going. Super Bowl weekend, they premiered it. We did a song you know, with Damon (Albarn) on the Gorillaz tracks so it was even better to get something else recently and direct. So yeah, Snoop is the man.
He took his band to the sunrise to meditate and right after like, three hours of meditation to the sunrise they wandered in and recorded all day.
I'm very sorry to hear of the passing of your father last year. He obviously had a pretty immense impact on 20th century music. Do you have a favourite album that he performed on?
Yes, On The Beach. It is actually one of his more popular reissues. He had some Japanese company reissued it years back and it was now as popular and everywhere we go, people were asking us about it and complimenting it. And you know, we heard it growing up, we hadn't heard the reissue actual vinyl record or the matching disc. And we had a show in New Orleans Mardi Gras and we had to drive down there, you know, like a twelve hour drive, eleven hours. And we literally hit that one song, number three, "On The Beach" of that record. The record's called On The Beach as well, actually. But number three on there, we played that whole twelve hours, just like on repeat or whatever. Eugene Easton has a hell of a saxophone solo on there, like one of the monumental solos of jazz… What they did is – it was in 1968, he took his band to the sunrise to meditate and right after like, three hours of meditation to the sunrise they wandered in and recorded all day.
the things we were motivated by and released in this record and how we wanted to do the music, all that, it all ties back in… We were just like passengers to the whole thing.
Let's talk about your most recent album, Book of Sound (2017). It's a dramatically different sound to Hypnotic Joints Vol. 1 (2017) and the first album without drums on your current label. From an outsider's perspective, it would seem that this album is perhaps born out of reflections of your loss and the roots of your upbringing.
Well it's funny, because when Book of Sound ends up dropping – it was always planned for last year, but we didn't expect our dad's passing… It ended up being that way that our father passed and the record came out but we were already writing the music for the record in 2016, winter and with our dad to feature on a couple of the records but his health just was – the two points we got to recording in Chicago, his health never really made it up there that where we were comfortable enough putting him back on his horn and stuff in the studio. And then he ended up passing later in the year while we were talking and we had already completed the record. And I got a chance to let him hear some of the stuff and everything. So no, it wasn't planned as a memoriam to him but – and looking back at how the record came about, the things we were motivated by and released in this record and how we wanted to do the music, all that, it all ties back in. Like it was happening before it was happening, anyway. We were just like passengers to the whole thing.
I get the impression from my research that you endured a pretty tough upbringing. I understand that you were required to wake before dawn and play your horns. This sentiment seems to be reflected on "Morning Prayer". Can you tell us a little bit about this track?
Well "Morning Prayer" was something that we play on all levels of our advancement. So it was on one end, for meditation and beginning the day, getting in tune with the universe, get in tune with each other, dealing with spirituality and God, the beginning of all things, which is something else we talk (about) along with music. So representing a bunch of things all at once. And mainly the thing like what I said, at all levels. So we played that when we were four years old learning it and we were playing that when we were, thirteen learning, you know what I mean. And your ability to play it grows with your individual, I guess, advancement, and your individual ability. And what it is is simplicity and complexity all at once. We don't like – other than musically, we don't like explaining the principles of it cos there is a whole lot of underlying lessons that our style and our teachings is based upon within those. It's sort of like um, the I-Ching, the Tao Te Ching. Where you read inside of their poems, their idioms, that where you think those mean one thing but they're really explaining the whole principles of Daoism, basically. And this is as much like those tunes on the Book of Sound, this is why it's called the Book of Sound. They're like codes, or whatever. So you can get their original intent out of them, or you can get what it is that you need to absorb for your day and time and whatever. But that specific one, "Morning Prayer", yes it came out of us starting the day, which to this day, we're still early risers. To this day, we go to the sunrise and meditate. And to this day we start all of our performances and studio sessions and everything with prayer. It was a real focal or integral part of our raising, our upbringing and just our whole musical philosophy, that morning prayer. And even how we played it was the fact we are similar. I think we did it better as kids, honestly. We were doing it everyday and under our father's guidance, we managed to pull it off, close enough on the record.
It was a real focal or integral part of our raising, our upbringing and just our whole musical philosophy, that morning prayer.
What does the songwriting process involve for such a big band and a band of blood brothers?
Well it's funny cos us being brothers is a factor in that process, for better and for worse. I dunno, we did that for a lot of materials but now we have a different way of doing it. What we used to do is all sit down together, in a room, that's how we got "Ballicki Bone", one of our popular classics now. Just kinda locking us up in a room, and everybody contributing their parts, throwing away the bad parts and keeping the good stuff. That was the old system. Cos we kinda never really wanted to represent any one man's creativity more than the next. But now, we've given every, all – cos all of our band members are writers, even like the background, like the guitars, bassist and the drummer. So now we've given everybody room to create and use Hypnotic as your platform. So where as we still have group tunes, our newest one we just wrote was a group joint, same as how we did "Ballicki Bone", we tried that again and came out with "In The House". It's not even recorded yet. That's been rocking the stages everywhere, we're going to do that one tonight… And what we also used to do is one guy writes the song and brings it to the band, we'd kinda change it around or we'd, like to call 'Hypnoticize' it. But we've been trying to do that less and less to serve people's creativity and the sense that they originally had for that tune or whatever.
I love my country, we definitely profess consistently about it being one of the best countries and places to live in the world, we believe. But it has a lot of ugly history.
I don't expect you to have an answer to this very complex issue, but do you feel in your heart that your country will ever bring about any meaningful gun law reform?
Um, ah you know what, that's a funny question because, the best part of me says no, honestly and just being brutally honest with myself and you and everyone else like, you would say no. There are people who are really – they don't even know why, just kinda ingrained on us, this right to have a gun, you know (laughs). Or ten guns, you know what I'm saying. And then on another end, we're modernising our beliefs. Like America is built on a lot of ugly things as well. Like I love my country, we definitely profess consistently about it being one of the best countries and places to live in the world, we believe. But it has a lot of ugly history. Now that we're getting to the point in the world where we're questioning others' morality, their principles, in all corners of the world, it turns the eye right back on us. So with that same attitude and the global attitude as well, where now the world is a smaller place and you can't just kinda be like 'well this is what we do here, you all do whatever you want there'. We have a worldly idea of what it is to be civilised and all those things and it's just not going to carry over into the future. It couldn't. So on the one end, it doesn't seem like there will be change, on another end it can't help but change. And people have to remember this about America, we never thought this until we had passports, but we're a young country, you know. We've got room to get a lot wrong and still figure things out and we're weaving our identity as our country. And now this identity of ours, including guns, is now being questioned, because everybody's not with that.
If you could collaborate with any artist, in any medium, past or present, who would it be and what would you ideally create?
Good one! Um, one is Tupac, definitely. We really felt like it, we had a guy – we started our careers a little bit earlier, if he'd have lived a little longer, that connection would have happened and we could have made some real impact with hip hop. He was raised real similar to us and what he's trying to say, he just never had no team, you know, so if we could wind back time, it would be him, recently. And then if we could really wind back time, we would go and get with some of the old giants. Like um, Duke (Ellington). We have a joke about performing for an audience full of the greats – Louis Armstrong, we'd love to just pick his brain and just see what he thinks as a fellow horn player, you know, the struggles of performing and managers and agents and all that crazy stuff, just getting his take on it, the careers, so. Um, Miles Davis would have been dope to do a tune with on top of Hypnotic just as a nice little trumpet solo. Quincy Jones was just talking about – we would love to do like, a track where he would just point us in the right direction and arrange out a couple of our tunes and stuff like that. And of course, if we could wind it back, like we always talked about wanting to do something with Michael (Jackson). We got the one with Prince in, and you know, rest in peace that he died, like, real shortly after that he passed away but uh, we would have loved to get one in with Michael Jackson. Just the horns for him on the vocals and stuff.
Hypnotic Brass Ensemble perform live at Oxford Art Factory in Sydney on Wednesday 14 March and Howler in Melbourne on Friday 16 March.