Psychedelic Porn Crumpets talk labels, drugs and touring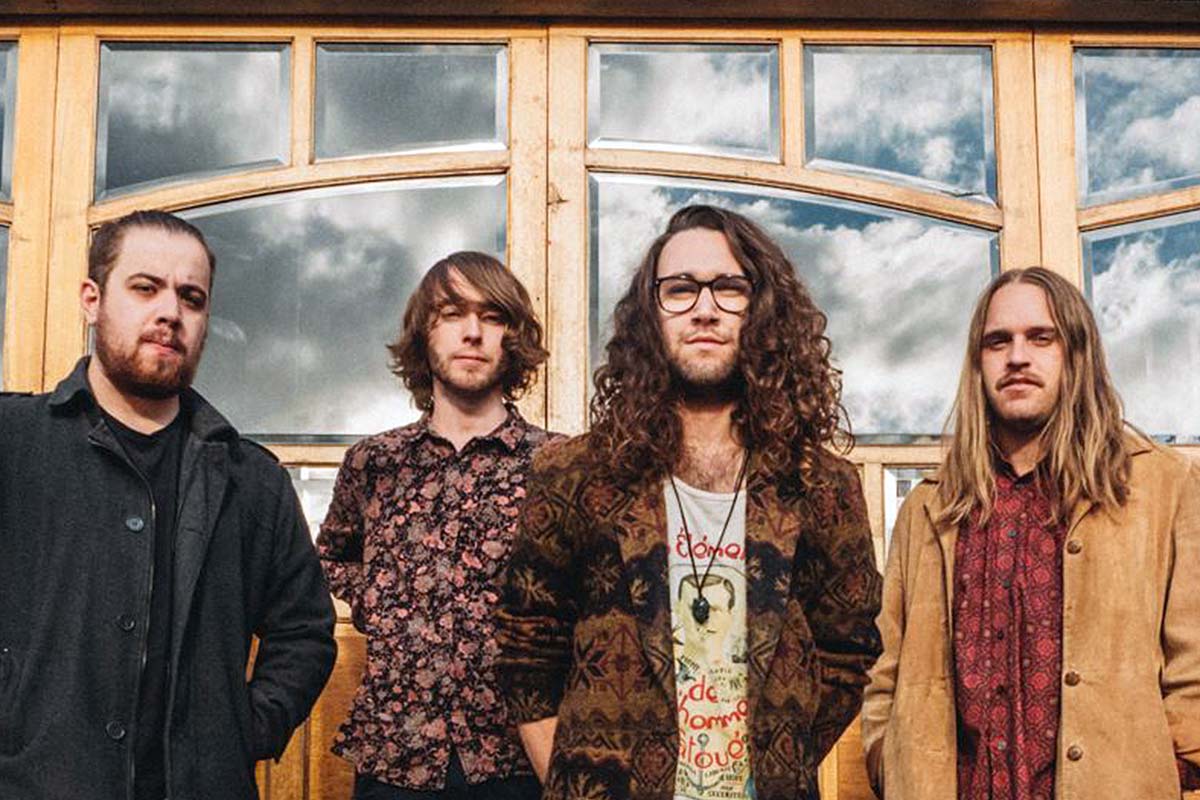 Psychedelic Porn Crumpets are a four piece rock outfit from Perth. We spoke to their lead singer and guitarist Jack McEwan over the phone while he was en route to BIGSOUND.
I've got to say, you've probably got one of the weirdest and coolest band names in Australia right now. I've been asked by a mate to ask you whether there's such a genre as 'psychedelic porn' and what would it entail?
What would it entail? Um, I dunno. I s'pose it would be very – an eclectic taste I s'pose. It would be very strange, maybe it's like you've got to watch it with VR while holding your breath in space. I dunno maybe that could (laughs) – maybe that could be a bit difficult to enjoy. But it would be nice, it would be pleasurable.
You've picked five songs to accompany this article. Would you like to say anything about your choices?
[powerkit_row cols_nr="2″][powerkit_col size="7″]
Deerhunter – Nothing Ever Happened
I think I remember listening to that song on a drive to someone's farm, this was like a couple of years ago. And it's got that ending that progressively just builds and builds and builds and it sounds amazing. You know when you've just got like a song or an album you can put on and it brings you back to that sort of emotion or that time? I've always got the rolling hills and like the trees changing shapes and sizes and that sort of end just building. And it's always just made me feel amazing. And I've never got bored of it, which is kinda hard for a song to sort of do that, but
Deerhunter
is an amazing band. So simple, but it's brilliant. It's nice.
[/powerkit_col][powerkit_col size="5″][/powerkit_col][/powerkit_row]
Tame Impala – Wander
That's where it all changed I think, hearing that EP for the first time. I think I heard "Half Full Glass Of Wine" like, a friend showed me it at school… and that as well, it's timeless. It's such a cool, modernist take on the 60s and just brought back, given new life. It was brilliant. Hearing that for the first time was like, 'alright, cool, I need to be in a band. Who is this Kevin Parker, how does he do this?'
Unknown Mortal Orchestra – Faded in the Morning
Again, Ruban Nielson, man, he is onto something different. His guitar playing is unreal. He's just invented something that – I think – I dunno. In his own way, like you look at Hendrix whatever or pioneers on the guitar. It's really hard in the modern day to sort of invent something new with keeping a sound not biased to like one person. You know what I mean? Like guitar playing is kind of – what's the word, it's selfish. It's like if you're in a band, everyone sort of wants to hear their own thing or their instrument, but he's got this talent to go here's the song, here's the shape, here's the colour… it feels like it was released a hundred years ago or something. I dunno, even just through your earphones, it's like you're listening on vinyl. He's a good producer.
Mild High Club – Windowpane
I started listening to them because I think they did Gizzfest with King Gizzard… he's got this childish sort of approach to music which makes you think back of like a warped sort of young childhood. But I think The Beatles tapped into that really well when they did Magical Mystery Tour, when was that, maybe 60 years ago. Sounds incredible, but yeah they've brought new life to that sort of genre and I'm lovin' it. Can't wait for them to release a new album, it's been a while since they're released anything so looking forward to it.
Morgan Delt – Obstacle Eyes
I think I found all these bands, like Ty Segall, Vinyl Williams, Morgan Delt, a band called Wand. They're all like this Los Angeles crew doing just amazing psych rock. It's so different, I hadn't heard anything like that before. That first album that he released is so wack, it's like, it's so – you can't like it on first listen because you're like 'I have no idea what's going on'. But it takes like 10 listens I think until you're just like 'alright, that is brilliant', and you're sort of understanding different bits and pieces and tones, different frequencies or whatever he's listening with. It's just such a magical landscape he's built with sound. Like a sonic structure. It's not like music, I dunno. You sort of have this different feeling when you're listening to it. So I thought I'd chuck that in and end with that cos it's just weird as fuck (laughs).
The music industry is changing so much, I don't want to be like 'here, let's sign you' and just not being able to afford to do anything…
You announced the formation of your own record label over a year ago, and yet we've seen no signings to date. Have your plans stalled?
I think the reason we haven't signed anyone is cos it's so expensive (laughs). We would love to be like, here's a label for all our friends and bands we really enjoy working with, but we wanted it to grow with Porn Crumpets so we're like, if we set it up now, it can only grow, do you know what I mean? The name is out there, we've got Porn Crumpets, I mean it's like us. Just stay independent. At first there was no sort of thought of signing anyone because it's like, we needed to just be independent, run our own label, just keep all in-house expenses like, I dunno, in our own name. So What Reality? Records was sort of like the home for it. But I think as we build and as the Porn Crumpets get bigger, we're not – I mean at the moment I'm just focused so much on the next album, I can't have time to think about it anyway. I'd be awful if I was trying to run a label at the same time. But Luke helps out as well. I think there's bands definitely we've been in talks with, like… Sofala, I mean we really want to get Hideous Sun Demon who's amazing. But it is obviously just being like 'how can we help you?', do you know what I mean? The music industry is changing so much, I don't want to be like 'here, let's sign you' and just not being able to afford to do anything or help them or build a team around them that would be influential or be better than what they're doing already. I think we want to get to a place where we're really comfortable with, alright, sweet, we know PR, we know management, we know this, we've got a couple of festivals who we're talking with, and we've got booking agents who want to work with that band as well. It's still growing, so I think as we're learning, I think we need to rather than taking on other bands, is just learn the trade first then start thinking about other people. So maybe a bit smarter than just like, alright sweet, we'll just sign people.
Music isn't for sale, it's something you enjoy. So having that sort of drive to create freely and independently is what it should always be.
Given you yourself have shown that bands can achieve critical and commercial success without any help from a label, what would you say to an artist to persuade them that they too shouldn't go it alone?
Well if you remain independent you're keeping all the money for yourself as in, you can keep creating records. You're not in debt to anyone. And you can keep it as a hobby as well, it starts becoming a job I think as soon as you start looking at contracts or looking at bits and pieces, it loses the fun, do you know what I mean? And you're working for someone. It starts becoming a job. I couldn't handle that… (you) create a piece of music, you've devoted your whole life to it and then you've just gotta start going here you go, it's a sale now. Music isn't for sale, it's something you enjoy. So having that sort of drive to create freely and independently is what it should always be. It's like, never grow old of that.
So then am I correct in understanding that your ideal vision of what the label would be is more of a support structure for encouraging bands?
Yeah, definitely. If I had a label, it'd be like, spend as much money as you need on an album as possible, don't rush anything. Like, it's art, do you know what I mean? You can't tell an artist be like okay, create the best thing you can in like six weeks, then it's gotta be pressed to vinyl and you've gotta have five music videos. Your brain starts to melt. It's like well I don't know how to do that, I know how to create music. So, sweet. Let's focus on what you can do, what you need help with, where we can go, who else I can work with. I think in the future the idea of a record label will be to help people rather than get money, do you know what I mean? It's not even for that, it's like, if we're like sweet, we like this artist, we want to hear more art, here's a bunch of funding, we plan out everything, all you have to do is not think, go into like a barn, like I dunno, in the middle of the desert or something and just record an album. Or take whoever you need or just like hang out with your friends and get the art. That is the main focus of it and at the end of it, here you go, here's a big fat cheque (laughs).
It's a pretty widely known fact that downloads are dead and streaming doesn't account for much in the way of payment. How crucial in your view is touring, and what are some of the biggest challenges that come with it?
I think remaining sober, that's difficult (laughs). So I have to do interviews with a hangover (laughs). I think touring is weird cos it doesn't feel like a job, do you know what I mean? It's so fun that it's like alright, sweet, that is the end goal. But you kinda get lost in that when you're organising everything or you're getting posters or you're thinking about social media. And you're like, fuck, I just wanna focus on playing a show. Like, here's the gig, here's the bits of music, this is what I know how to do better than anything. Being on stage, it's the best feeling in the world. And it's like, I dunno, if you're enjoying yourself and you've got four mates that are enjoying yourself as well, or they're enjoying themselves with you, you see the energy on stage and it's – I dunno, everyone else vibes off that and joins in. It's just yeah, amazing that it's in a pub as well so you can just lubricate the gears, go all out if you need to.
Mental health is of serious concern for broader society, but especially so for musicians – a recent Australian study showed that musicians are up to ten times more likely to show symptoms of anxiety. What, if anything, do you do to stay healthy on tour?
Yeah, God, don't tell me this now (laughs). Oh man, I don't really know. You do just get sort of overwhelmed. But you sort of, I dunno – breakfast, that kinda helps. A salad, maybe eat some salad. But I think water. I need a drink. I feel like I haven't got any saliva left in my mouth from talking (laughs). But I s'pose just not thinking. Just be like, alright, I'm on tour, this is a job. But I dunno, you don't really think about it like a job. It's like a holiday. I s'pose it's the comedown that will probably get ya. It's like if you're completely on the buzz all the time touring, like, yeah, alright here you go, here's like a million reward points all at once. And then you come home, you're like 'oh holy fuck, what just happened?' That is probably the point that it would hit you. But I dunno. Try not to have a comedown. You've got to be healthy when you get home I think, rather than on tour.
Don't buy drugs off homeless people. Luke did that last night… probably shouldn't have said that, but there you go.
Well you just mentioned 'buzz' and 'comedown' there, so I have to ask – in "Buzz" you sing, "I think I'm sticking to my drugs man." What drugs are you referring to?
(Laughs) What drug – I think and then I say I'm really choosing love. I think that was a really clever way of being like 'and this is my drug'. But, I dunno. Just sort of, I dunno. Ah, fuckin' whatever's cheap and available. Nah I dunno. If you're out like, you do just dabble in excitement. Everyone likes having a good time. But like, not right now, I'm absolutely knackered from last night so – yeah, don't buy drugs off homeless people. Luke did that last night (laughs). He's still got them. They're awful. He said they've got maybe ginger powder in them or something but maybe that just helps with the digestion. I dunno. Probably shouldn't have said that, but there you go. It's alive and kicking now (laughs).
What does the songwriting process typically involve? How many band members are involved at that stage?
We usually – I think it gets to a point where I'll write like the main song. And then when it comes to recording process, I've got a home studio, (where) I just sit down, get everything hammered out. And then I'll show everyone when I think it's finished. And then Danny will redo the drums, Luke will put his sort of guitars and work on it and we'll just sort of rebuild the song in a way. So it's like everything, here's the scratch track, and then we just start layering on top with better mics, better equipment, redo the vocals, and work on it more as a team. So it's almost like we're three producers and I'll just sort of come up with like mainly the idea but they are the ones who sort of like, right, here's how we're going to produce this song or this album. And I think it's a good way. We're still kind of working out how we're writing I think cos it still feels kinda new, do you know what I mean? It's been three or four years but I'm getting used to being like alright here's the song, rather than just being like uploading it to Soundcloud with some MIDI drums, it's like alright sweet. Let's think about it more. How can we get this song to sound the best it can be? And we're working with a producer called Jelly (Michael Jelinek), he's been on from day one really, like first album. He's a wizard. He can just literally get any sort of sound or anything you want. A lot of the guitar tones are DI'd. You can just put in a raw tone and be like, alright now let's put it through this Vox or this Mesa/Boogie or whatever you want. And you can work on that tone for five or six days if you want to. And you don't have to buy thousands of dollars of equipment, you can just plug straight into the computer.
If you could collaborate with any artist, in any medium, past or present, who would it be and what would you ideally create?
I thought about this. I think Flying Lotus would be my main inspiration for collaborating cos he's just like an absolute sonic genius. The way he can just find rhythm in fucking a box of chocolates. He can do anything. He can just find sounds, samples, beats, music in anything and that is just such a rare talent to have. Like you can easily pick up a guitar. But I dunno, a million people have probably tried and played music throughout the ages but now we're working with this like sample digital sort of era where he can just find like a string loop and mix it with ping pong balls or whatever. Like that Cosmogramma album is just so amazing. So I would choose Flying Lotus, if I can. Call him up (laughs).