Femi and Made Kuti talk legacies, musicianship & life after death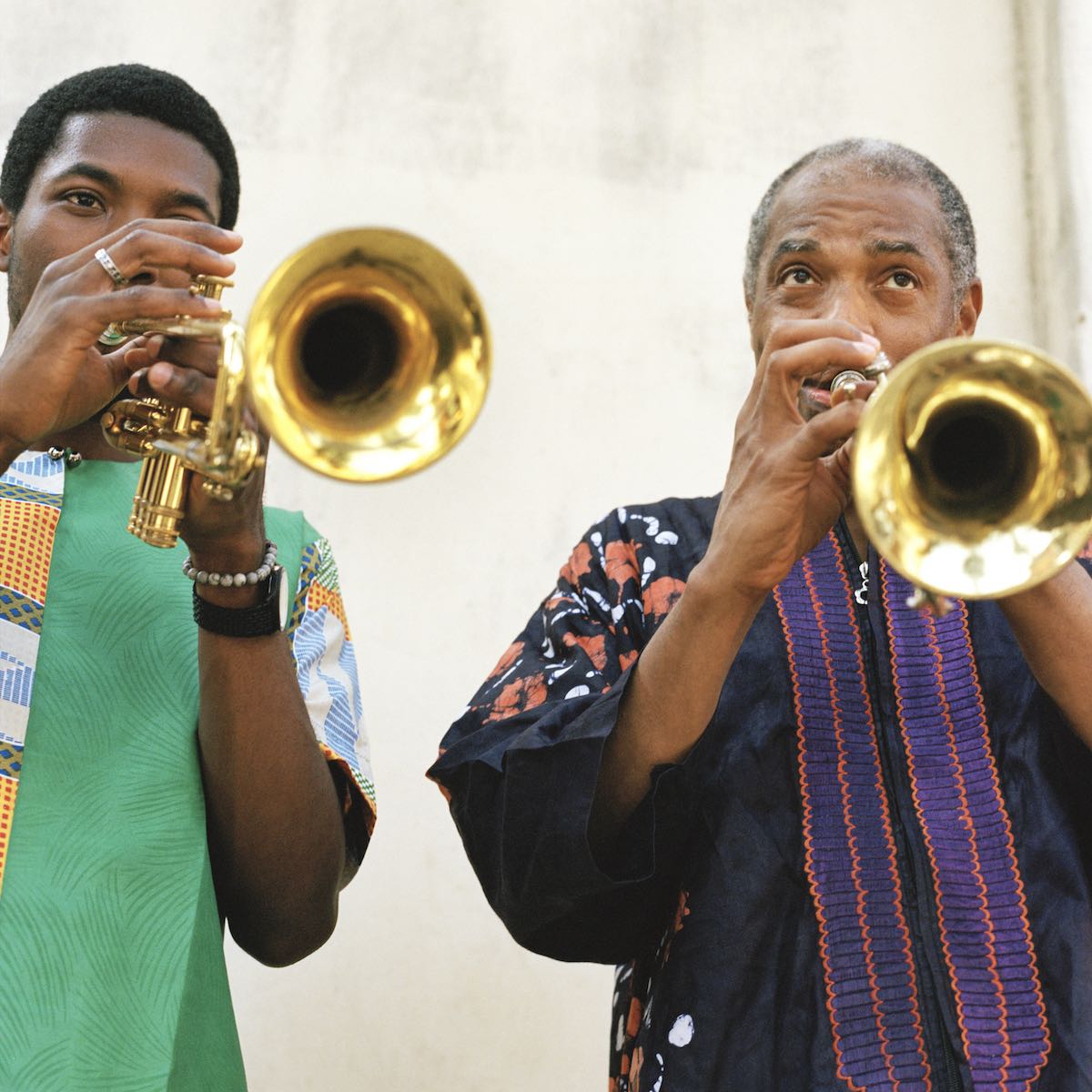 Photo: Sean Thomas
Intergenerational multi-instrumentalists Femi and Made Kuti are essentially music royalty. The respective son and grandson of Afrobeat pioneer Fela Kuti have teamed up to produce the two-album project Legacy +, which was released in February.
You've teamed up as father and son to release Legacy +. What would you like your legacies to be? What you would like to be remembered for?
Femi: I'm indifferent.
Made: Yeah (laughs), I know my dad is indifferent. I'm quite as indifferent as my dad. I know that once I pass away, I will be too unconcerned about – I don't know if I'll care about what – I'll be dead. So I wouldn't really know what's happening after I pass, but if there's anything that I want people to be influenced by while I am alive, is the level of passion and interest and self-reflection that I try to come across within my music. I really want people to know that-
Femi: And the integrity that we have put in our work.
Made: …There's a lot that goes on in music, and there's a lot of theory. There's a lot of history and there's a lot of commercialisation of music and I want to come across as one of the people that have decided to follow the route of passion and integrity and to communicate as honestly as I can.
Sure. And Femi, what would you like your legacy to be?
Femi: I don't know, I just live my life with integrity and I try to put 100% of my energy in everything I do. I know when I'm dead, I'm dead. So I don't think I'll worry about all that, but whilst I'm alive, I think everything I do must be with passion, integrity and I must feel – I must really, truly love every minute, hour of my work. So that's why I put so much energy in my performance, in my recordings, in my family, in everything I do. So if this is what the legacy is then, that would be my legacy when I die. What I understand, when I'm dead, I'll be dead. I think when we die, we worry about something else, if there is life after death.
And what are your personal views on life after death?
Made: No idea (laughs).
Femi: I think we go to somewhere. It depends on how you live your life. I would think we go to… I think there's an accountant somewhere that you have to account for everything you do. I think there is justice and you'll be judged justly. I don't think there is heaven or hell but we account for everything we do in life. But I believe in retribution. I believe in karma. I believe we reap what we sow here and after we pass, I think higher forces come and take our soul or spirits and tell us if we lived rightly or not. I think this goes with my culture and tradition for me… I'm of the opinion that, probably when you are dead, you are dead… So there's no thought about that. But, you know, it's quite confusing. So (laughs), I'd rather just stick to culture and tradition and keep an open mind. If there is nothing after I die, I won't be surprised because I'm gone.
Made: You'll be dead (laughs).
Femi: Yes. That is why culture tells you to live the path of righteousness. Be humble, virtues. All these things are part of your upbringing, just in case there is life after death, then you know you have lived a righteous life. And if there's nothing, you have nothing to worry about.
Music is not just because of my father, at all. It's because it's what I want to do, for me.
Sure. Okay. Now your surname obviously affords both of you a platform to reach worldwide masses. I'm wondering if the both of you view it more as an opportunity to release music or rather a responsibility, a duty to release music?
Femi: For me, that's what I want to do, so it's not a responsibility. I enjoy playing music, it's the happiest time of my life. I still practice six hours a day. After my family, music comes first, nothing matters to me than being able to play my instrument perfectly and with so much joy. The more I improve, the happier I am, the more I can even relate with issues. So music is not just because of my father, at all. It's because it's what I want to do, for me.
Made: Same here. Same here.
What does Afrobeat specifically mean to the both of you? Are there any particular elements which you would say must be included? What constitutes an Afrobeat song in your opinion?
Made: Yeah, there's now the whole mistake between the Afrobeat and the Afrobeats. Afrobeats is more of the pop genre that's coming out in Nigeria, the discoy tracks and dancehall tracks and grooves, but Afrobeat as it is, is really much about musicianship and arrangements, structure, harmony, jazz harmony, improvisation, singing, political messages, conscious messages… As it's studied, there are many different approaches to Afrobeat because you know, as Fela has composed it and that my dad has done it in his own way. I think as Africa we've only touched the surface of all the potentials and all the different universes that Afrobeat will travel into. But yeah, I think it's really much about musicianship and expression.
My elder sister manages the Shrine. I only turn up when people start to oppress her because she's a woman.
Femi, your song "Make We Remember" calls on people to remember the words of your father. Does this include your father's misogynistic language?
Femi: No, of course not. We are different people. Now, you have to understand where my father… My father did grow up under colonial rule. Now, when you are talking about that against women, it was the colonialists that brought this to our culture and tradition. The African culture, the women rose to become kings and queens. They were warriors. They headed armies. When you go to the historical facts, you hear of Queen Amina, she led an army. She conquered, she conquered nations. She was a warrior. She was a general in the army. These were our women. There is no ethnic group that has a committee without women in it. It is Europe that is just say no 50%, you must put women in the cabinet. You could not have a committee in Africa without women being part of it. It was not seen as objective or reasonable because Africans already knew from historical understanding that without a woman's input in whatever you are doing, you are already misguided.
So, who is in control of the home? She looks after the home. She trains the children. She brings up everything. She knows where everything in the home is. I would take, for instance, my life. I had five… My grandmother, my mother, my two sisters. I still don't do anything without my sister's input in my life. Who runs the [New Afrika] Shrine, everybody says Femi's Shrine but who runs the Shrine? My elder sister manages the Shrine. I only turn up when people start to oppress her because she's a woman. Because of the colonial mentality we suffer, that we have forgotten our culture and tradition. Because our culture and tradition does not allow you disrespect women.
You cannot disrespect your mother. You can't disrespect your sister. And then when you marry a wife, the first thing they are telling you is, "don't disrespect my daughter," "don't disrespect my sister." That family is telling you, "treat my daughter as a queen, as you would want your daughter." So these are the things intermarriages do on this continent. So it was… When you go through the Bible or the scriptures, it's always, he, he, he, he, men, men, men, men, men, our culture is not like that. So, Fela grew up in a very Christian home and probably was indoctrinated in a way and he misunderstood his culture. But my understanding of the culture and when I study African history, women rose to be kings. Women could not… nothing could be done without the woman's input on the continent.
People don't even believe COVID… when I talk to the people on the streets, they think it's just another gimmick by the government to extort for corruption.
The COVID pandemic has weakened the response to other diseases in Nigeria. What more do you both feel the government could or should be doing at the moment?
Femi: In Nigeria, the government should have given the palliatives that the world contributed for Nigeria to Nigerians, they hoarded that. They should have quickly monitored the borders and provided – right now Africa is very unprepared for the vaccine. We don't even know what's going to happen with the vaccine. I think it's world organised, so It's going to assist Africa on the vaccine. So we are very slow, in everything. People don't even believe COVID. The poor people don't believe in COVID because, the government has handled it very badly. I do, for instance, I believe because I know a lot of people that have died, quite a few, or have caught it and survived. But when I talk to the people on the streets, they think it's just another gimmick by the government to extort for corruption. So, I really don't know, I think emphasis should be put on programs, going to where people are hospitalised more, showing them in hospital being interviewed or just showing them that look, this pandemic is real. And things like this should be done, I think. Maybe Made has a great idea too.
Made: No, I just agree with everything you said.
Last night I had the opportunity to interview Frànçois from Frànçois & the Atlas Mountains, who I believe Femi you once played a show with. And he wanted me to ask you, how do you prepare to be the manager of music when there's so many people performing with you? How do you tackle the responsibility and prepare to be a bandleader?
Femi: You have to be very honest, humble. You have to understand everybody. You have to understand every individual around you. You have to sacrifice, sometimes your happiness for theirs. You have to sacrifice your time for theirs. It's your band but you let them know it's their band, you try to make the band a family. For me, it's quite – because my band comes from Nigeria. So we all live here, we work together. I have the Shrine and so I can let them – I've been doing this for three decades now. So my band is quite young now, but the band I started, it has been very tough because you start with your age mates and then you all grow out of friendship for some reason. I don't know why, misunderstandings happen, but you as the band owner and leader of the band have to be steadfast and be true to your passion.
And most importantly, you have to be open and be very open with finances, what you're doing, what you're earning what you're paying, when you can't pay well, you have to let them know why. And since sometimes you play at free concerts, you let them know it's a free concert, you let them know what is making any money. Sometimes you pay the band better than you get your own personal income is because the band has already made a lot of sacrifices. Sometimes, like COVID now my band has been out of work for a year. Luckily we have the Shrine, we still try to pay a minimum salary to the musicians. So we are grateful.
If you could collaborate with any artist in any medium, who would it be and what would you create?
Femi: (Laughs) Made what would you do?
Made: I don't know. I have no idea, too many people to choose from.
Femi: You mean dead or alive?
Yeah. Sure.
Made: Yeah. And you said, any medium as in… yeah (laughs).
Femi: I'll probably want to play with Miles Davis or John Coltrane. Somebody like that.
Made: I'd like to play, improvise on the trumpet while da Vinci sketches.
Wow. Made, I think that might be the best answer I have ever received.
(All laugh)